Our professionals have extensive knowledge and experience in advising state and local governments with debt management and issuance decisions that are critical and common such as:
Structuring Issues
Assessment of New Financing Programs with a View Towards Their Impact on the Overall Creditworthiness of the
Issuer
Debt Management Responsibilities: Managing Debt Portfolios, Including Fixed and Variable Rate Debt
Maintaining and Monitoring a Database of Outstanding Debt Issues for Possible Refundings
Preparation and Restructuring of Debt Capacity Studies
Credit and Rating Agency Strategies
Independent Pricing Analysis for Debt Issuance
Development of Debt and Swap Policies
Implementation of Cash Flow Borrowing Programs
Strategic Analysis of Private/Public Financing Proposals
State Issuers
PRAG is a leading financial advisor to states, state agencies and authorities.  We have assisted more than 70 state and state-level issuers in the issuance of over $411 billion of bonds.  This breadth of experience allows PRAG to bring the "Best Practices" as formulated by the GFOA among state issuers for the benefit of all of our clients.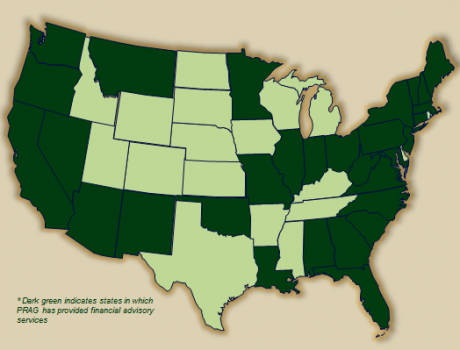 Counties and Cities
PRAG has provided financial advisory services to some of the largest counties in the nation, completing financings totaling over $39.0 billion.  PRAG advised Baltimore, Chesterfield and Monmouth counties on credit strategy that resulted in each achieving triple-triple-A results, joining a select group of less than 40 counties across the country with such ratings. Additional financial planning experience includes engagements for the counties of Alameda, Anne Arundel, Broward, Los Angeles, Miami-Dade, Orange, San Bernardino, San Diego and San Jose.
PRAG advises city governments nationwide.  We have advised on a total issuance of $189 billion. Our city clients have included: Atlanta, Baltimore, Long Beach, Los Angeles, New York, Oakland, Pasadena, Philadelphia, Phoenix, San Diego, San José, Tampa and the District of Columbia.